2014 Wonderland in Wufu
Let'sget fun by LOHAS in beauty Taiwan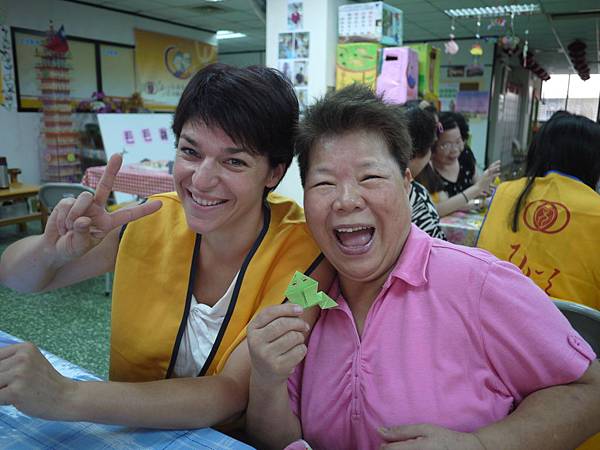 一進入五福社區,映入眼簾的便是大片的農田和傳統台灣三合院建築交錯的美麗景致,然而隨著台灣產業結構的轉型,五福社區面臨人口流失及城鄉差距的挑戰。我們非常希望能透過各種有趣的長者服務工作,將五福社區的特色突顯出來,也讓志工們更了解台灣這塊土地,也更了解長輩們為這塊土地付出的努力,進而引發對長者的服務熱忱,更期待志工們將質變後力量帶回自己的家鄉。 今年營隊的主要特色有傳統控窯體驗、三代互動活動、社區馬賽克拼貼,結合長者關懷、社區營造、文化交流等各種特色交流方式,讓你愛上活力長輩! 樂活五福!
WuFu community is a small agriculture-based village in the middle of the western Taiwan.
In Taiwanese, "WuFu" means five kinds of luck. people who lived in WuFu hope they can always live with good fortune so named it.
The most special characteristic in Wufu is large tracts of farmland and traditional quadrangle buildings staggered in whole community,
WuFu farmers growing delicious rice and juicy melon,
also making the traditional Taiwanese cakes which become the most popular souvenirs in Taichung city.
Following the change of Taiwan's industrial structure,
Wufu has to face demanding challenges such like aging population,
the loss of young generation. This is also the reason we choose Wufu to hold the International Workcamp.
We hope to energize resource in every corner of the community,
and we are also looking forward to the changes that volunteers bring to this place through participation.
We believe that you will find another meaningful life.
工作內容:
我們將共同參與社區馬賽克美化過程,並透過長者關懷訪視、互助連線、長青運動會、創意控窯等活動服務社區長輩。
也會結合當地國小學生一起進行文化交流,並會在七夕、中元節、父親節等特殊節日舉行各種特色活動,邀請社區同歡。
Camp Content
1. Beautify wall:
We will invite locals to discuss, design and building a community special mark together by beautify a wall with mosaic tiles.
2. Caring the elders :
We will be grouped to discuss and plan some activities such as Birthday party,
House cleaning for the elderly who live alone or disadvantaged.
3. The Chinese Valentine's Day :
We will visit Taichung Senior Talent Show with elders as a cheer squad on Chinese Valentines Day,
Wufu's elders will be one of competition in the show, and we have to use some material like paper etc to make
post or prepare a 10 minutes show to cheer grandparents up and making the show alive.
4. Taiwaness Father's Day:
We will have a interesting Taiwaness mud BBQ time with elementary school students, elders,
and locals to celebrate Taiwaness Father's Day. You will have chance to send special wish by card
for grandfather of Wufu and your real grandfather as well.
5. Farewell Party:
We will plan a party include outdoor game and community movie time, we will be grouped to show people what
you see and feel in these 14 days.
You can design a 5-10 minutes show with partners or use camera to make a simple film.
活動日期:2014/7/31(四) ~ 8/14(四)
Camp Date:Jul. 31(Thur.) ~ Aug. 14(Thur.)
活動地點:
臺中市霧峰區五福社區(臺中市霧峰區五福里新埔路239號)
Camp place:Wufu Village of Taichung city, TAIWAN
No.239, Xinpu Rd., Wufeng Dist., Taichung City 413, Taiwan (R.O.C.)
面談會時間、地點 Introduction and Interview:
日期:6/21(六)上午9:00~12:00
地點:臺中市西區民權路234號4樓
Meeting information
DATE:21st Jun(Thur.) AM 9:00~12:00
ADDRESS:4F., No.234,Minquan Rd., West Dist., Taichung City 403, Taiwan (R.O.C.)
台灣志工培訓 Taiwaness Volunteer training
時間:7/3(四)~7/4(五)
聯絡人 For more info. please contact:
張佑如(Zara Chang) 企劃助理
電話:04-2206-0698 分機 40

Welcome to join us