2015 TouBian,Top Band !
Singing your tone and bring the love on top!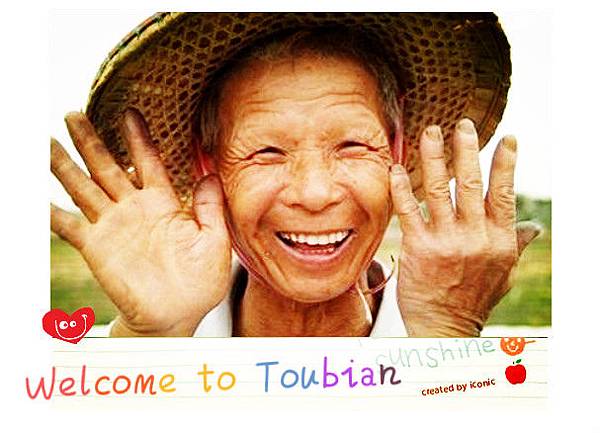 Taiwan is a kingdom of fruits, there are many kinds of it that we harvest in different seasons, especially in Summer. Toubian community is a small agriculture-based village in center-western Taiwan, it also has many kinds of fruits, and especially famous for lychee and longan. Many elders grow those fruits by themselves, so when you come to Toubian, maybe you will have a chance to help them for a while, to experience Taiwanese farming, and enjoy those fruits as well. Those elders who live in Toubian are smart but shy, they don't know how to show their passion to others, so what we want to do for them is to regain their confidence and help them to display. And we also have other goal is to find two unique songs which represent Toubian (one in Chinese, other one in English.), volunteers and elders will learn both languages at the same time while they are practicing together. After this, we will paint on a wall and make a special memory together.
If you like music, fruits, and simple life, please come to Toubian, it is going to be an amazing experience of your life. Welcome to join us," singing your tone with us, and bring the love on top!"
因臺中市政府大力推動社區照顧關懷據點的成立,以利服務社區內更多長輩,民國102年頭汴社區照顧關懷據點就在這樣的背景下成立了,成為本會所輔導的據點之一。頭汴社區照顧關懷據點結合各種社區資源,對社區內的長輩進行電話問安、餐飲服務、健康促進、關懷訪視等各項服務。經過兩年服務經驗的累積,以及志工服務能量的成長,現今更期盼透過國際工作營的辦理,結合海外志工,進一步捲動在地青年志工的投入,在社區整體營造層面投入更多元的效益與活力,同時透過老人服務,激起青年朋友關心高齡化議題,進而加入服務高齡長輩行列;透過社區服務,讓國外青年認識台灣最豐富及熱情的在地文化;讓在地青年,回歸家鄉,對家鄉有認同感、服務鄉里,故於今年舉辦頭汴國際工作營。
Aims:
Many people think elders are fragile, but they are not. We want to tell people how different they are. They still can have a dream, and make the dream comes true, they are wise and can learn things quickly; they can teach people many things that we don't know. They are energetic, powerful more than we are. Also, we want to help elders to gain the confidence and "see" their own "value", encourage them to "go out" and join social interaction.
Workimg content:
1. Could you imagine when you are eighty years old? Let's participate the Aging Simulation to experience some of the sensory changes that elders may have. Aging Simulation makes you become older immediately and know more about elders body.
2. Visit local elders and accompany them. We provide services such as house cleaning and chat to find out their dreams and help to make the dreams come true.
3. We will find out a characteristic of Toubian community, and use two unique songs (one in Chinese, another one in English.) to represent it. In the end, we may group a top band with seniors!
4. Painting your memory of camp on the wall which nearby community center.
5. To experience Taiwanese culture, for example: Taiwanese food, fruits, temples, night markets, beautiful mountain.
工作內容:
1、彭祖體驗
2、長輩關懷,如:居家環境整理、並找出長輩夢想&實現它
3、頭汴社區的特色,並找出適合頭汴社區的專屬歌曲
4、社區圍牆彩繪
5、文化交換,如:海外文化、台灣文化,及社區文化之交流
計畫時間Project time:2015/7/3-7/17
Project place: No.18, Ln. 11, Sec. 2, Changlong Rd., Taiping Dist., Taichung City 41150, Taiwan
活動地點:台中市太平區頭汴社區
Date of introduction and interview: 6/6(Sat)
Place of introduction and interview: 弘道-台中服務處 台中市西區民權路234號5樓(台中教育大學旁)
Contact person: Chou 04-22060695#34